GLOBAL FAB AWARDS 2015 | FAB11 BOSTON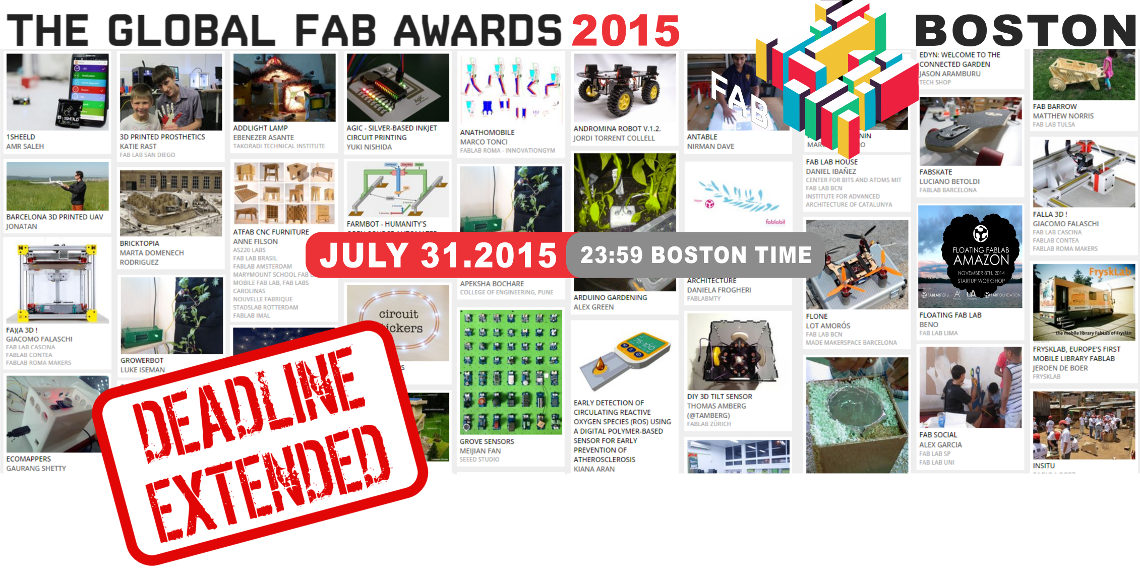 GLOBAL FAB AWARDS 2015 | FAB11 BOSTON | EXTENDED TO JULY 31
---
CALL FOR APPLICATION
The Global Fab Awards (GFA) is an international initiative to recognise the power of creation and collaboration through digital fabrication. The growth of the Fab Lab Network, Hacker Spaces, Maker Spaces and other digital fabrication facilities have boosted the power of anyone to be creative, solve problems and create world changing projects. The first edition of GFA organised in FAB10 gathered more than 130 projects from around the world– these projects are changing people's lives on a local level and serving as resources for global communities.
The second edition of the Fab Awards will be organised for FAB11 Global Fab Lab Conference. We will boost existing projects in the Fab Lab Network, and help with cross-pollination between Fab Labs by leveraging the new FabLabs.io platform for global collaboration.
The Global Fab Awards are organised by the Fab Foundation in collaboration with Fab Lab Barcelona and Fab Lab Lima. This is more than a hardware competition– we are celebrating and facilitating local impact. FabLabs.io is a platform that serves as the social network to connect Fab Lab projects, spaces, technologies, and events; it allows makers and innovators to showcase their open-source ideas– which can then be turned into prototypes and products in Fab Labs, makerspaces and hackerspaces worldwide. The FabLabs.io platform gathers inventors, industry leaders, policy makers, and investors to capacitate local problem solvers from El Salvador to Iceland to Togo through digital fabrication and global collaboration.
OBJECTIVES OF THIS CONTEST
To discover the most innovative and impactful projects developed by the global Fab Lab community over the past few years.
To empower local development and encourage change in places where Fab Labs, makerspaces and hackerspaces are located.
To demonstrate the potential of digital fabrication and open source projects in the world today.
ENTRY REQUIREMENTS
All projects must be submitted and documented in digital format with any relevant source files included. We believe in the Open Source philosophy, and as such, all files submitted will be made available for public use.
You do not need to be affiliated with a Fab Lab, and your project does not need to be open source. However, judges may have a preference for projects that are open source and shared in an accessible format.
GLOBAL FAB AWARDS PRIZES
GFA Prizes are currently being negotiated with our sponsors. We will keep all participants informed about the process during the evaluation period. We are ranging from a monetary prize to a support program to develop further your project in one of the Super Fab Labs of the network.
GLOBAL FAB AWARDS CONTEST
All finalist projects will need to be shipped to Boston, or manufactured locally in one of the Boston-area Fab Labs prior to the FAB11 conference.
SUBMISSION PROCESS:
Register as an individual on Fablabs.io: https://www.fablabs.io/signup
Document your project by filling out this form on Fablabs.io: https://www.fablabs.io/projects/new

Click on the "+ New Project" button on the bottom left side.
Upload all relevant files onto Github (preferred), Google Drive, Dropbox, or another site and provide links on your project page. Note that all documents shared here will be made publicly available on Fablabs.io!
CALENDAR:
Launch of the call: June 25th
Closing date: July 22nd
Judging period: TBD
Finalists announcement: July 25th (Extended to July 31 at 23:59 Boston time)
Finalists exhibition: Fab Festival
Award ceremony: August 9th
JURY
Neil Gershenfeld | Center for Bits and Atoms – MIT
Sherry Lassiter  | Fab Foundation
Anna Waldman-Brown  | Fab Foundation
Tomas Diez  | Fab Lab Barcelona
Beno Juarez | Fab Lab Lima
Nadya Peek | Center for Bits and Atoms – MIT
Marni Rutkofsky | General Electric
Steve Taub | General Electric
Larry Chu, MD, MS | MedXMakers Co-Lead; Executive Director, Stanford Medicine X; Associate Professor and Director, Stanford AIM Lab, Stanford University
Monika Wittig | MedXMakers Co-Lead; Director, LAN / Live Architecture Network
[+ invited gurus + sponsors ]
PRIZES:
1st prize: 1 Ultimaker + 1 SRM20 + 3000 USD
2nd prize: 1 SRM20 + 2000 USD
3rd prize: 1 3D printer + 1000 USD
People's choice: Vinyl cutter
Med project: Trip to the MedxMakers conference in Stanford